Authenticate your Zoom account
There are two ways to access Zoom on campus.
Zoom hosted (http://umd.zoom.us) is an open conferencing version of tools available for faculty, staff and students to use.
Zoom in ELMS Canvas: Use Zoom within ELMS-Canvas. It integrates with the course roster. Follow the steps below to activate Zoom in your course.
Before you activate Zoom in your ELMS-Canvas course, open up https://umd.zoom.us in a new browser window.
Click Sign In.

This takes you to the CAS screen. Login via CAS. Now, you can go to your ELMS-Canvas course and activate Zoom.
Schedule Zoom meetings in ELMS-Canvas for instructors, TAs and GAs
Individuals with an instructor, co-instructor, graduate assistant or teaching assistant (TA) role can set up Zoom meeting rooms in ELMS-Canvas. To set up Zoom Meetings in ELMS-Canvas, your default email identified in user account settings MUST be your university email (that is, directoryid@umd.edu). Using any other email will generate an error code.
To check, click on the Account icon in the ELMS-Canvas global navigation, then click on the Settings link. Note the email address(es) listed under Ways to Contact. Your university email address must be identified with a favorited star. If it is not, click on the Edit Settings button and select your university email in the default email field.
Make Zoom available on the course menu
Zoom can be made available on the ELMS-Canvas navigation menu.
Click on the Settings link on the navigation menu.
Click on the Navigation tab.
Drag the Zoom link from the tools that are hidden from students to those that appear on the course navigation.
Click the Save button at the bottom of the Navigation page.

NOTE: If you leave this page and do not see Zoom on your navigation bar, then you have forgotten to click the Save button.
Schedule a Zoom meeting
Zoom sessions can be scheduled in advance or on the fly. To schedule a Zoom meeting in ELMS-Canvas:
Click Zoom on the Navigation menu.
Make sure you are on the tab called Upcoming Meetings.
Click the blue Schedule a New Meeting button in the upper right.

Scheduling options
After clicking Schedule a New meeting, options display for you to configure your new meeting. Here is the information needed for the top of the page:
There must be a Topic or a topic will be given by default. A description is not required.
Add the date and time of the meeting. If this is a recurring Zoom meeting (see below), only the first instance needs to be put in. Note whether it is an AM or PM meeting.
The meeting duration in hours and minutes.
Recurring meetings options
If you are scheduling a recurring meeting, you have options specific to configuring those meetings.
Check the Recurring meeting checkbox. This triggers fields to display to configure a recurring meeting.
You can set the meeting Recurrence (frequency) as Daily, Weekly, Monthly or No-Fixed Time. Indicate how often this meeting repeats.
Set the end date either by entering a date or by entering the number of times you will have a meeting.

Audio and video settings
On the same page, there are settings for audio and video in the Zoom meeting.
Registration is not required.
Video settings can be configured for both Host (you) and Participants (students). This only affects video when a Host or Participant enters a meeting. Once in the meeting, video settings can be changed. It is recommended to have video turned off for both Host and Participants on meeting entry.
Audio can be configured so that the meeting can be delivered using Telephone, Computer audio, or Both. It is recommended to select Both.
Security settings
Security settings are critical when scheduling a Zoom meeting. Personal Meeting IDs are like your cell phone number, give it only to participants you trust, such as colleagues or assistants. Below are the Meeting options available that enhance security.
Meeting passcode: Only course members with the passcode will be able to join the meeting. A passcode is generated automatically by default when a Meeting is scheduled. It can be changed.


NOTE: A Passcode or a Waiting Room (or both) is required for all Zoom meetings (see below). If you have selected Passcodes as your security method, a Passcode will be embedded into the meeting link automatically (unless you have specifically disabled this feature). With a single click, your meeting participants can join the meeting. If someone manually enters the meeting ID, they will also need to manually enter the Passcode

Waiting Room: Meeting Hosts have the capability to disable the Waiting Room feature. If this feature is not disabled,

participants with non-UMD identities will be held in the Waiting Room until the meeting hosts admit them.



Mute participants upon entry. You can enable participants to turn on their microphones within the meeting itself on a person by person basis.
Do NOT select Enable Join Before Host.
Only authenticated users can join meetings. This limits access to the room to only those participants with a UMD Zoom account. NOTE: If you have a Guest Speaker outside of UMD, send that person a direct link to the meeting and deselect this feature.
Alternative hosts
Only Hosts can start and end a meeting. When the Host cannot start a meeting, Alternative Hosts can be designated by their UMD email. The only restriction for an Alternative Host is that they are authenticated users, and therefore must have a UMD email.
Save
Once you click on the Save button to finish scheduling the meeting, the Schedule a New meeting window will display the Meeting ID and a link by which you can invite people to the meeting. The Meeting information and link can also be added to your calendar here. It will not automatically be displayed on the ELMS-Canvas course calendar. To distribute this information to your class, send it out in an Announcement or an Email. Usually, students will access a meeting scheduled through the ELMS-Canvas Zoom integration by clicking on the Zoom link in the course navigation and then click on the Join button at the scheduled start time of the meeting. However, if you are inviting external participants to the meeting or wish to provide a quick link to the meeting to your students via an email message, you can Copy Meeting Invitation and share it.
Conduct a Zoom meeting
Click on the Upcoming Meetings tab in Zoom.
Click the Start button. The Zoom window opens. It confirms how you are connecting with your audio in the meeting.
Click Join with computer audio to confirm.

If you have selected to be on webcam, your webcam video will display.
NOTE: it is recommended that you be sparing in your use of the webcam due to bandwidth considerations.
In a meeting
Hover over the bottom of the Zoom Meeting window, to enable your Host menu bar.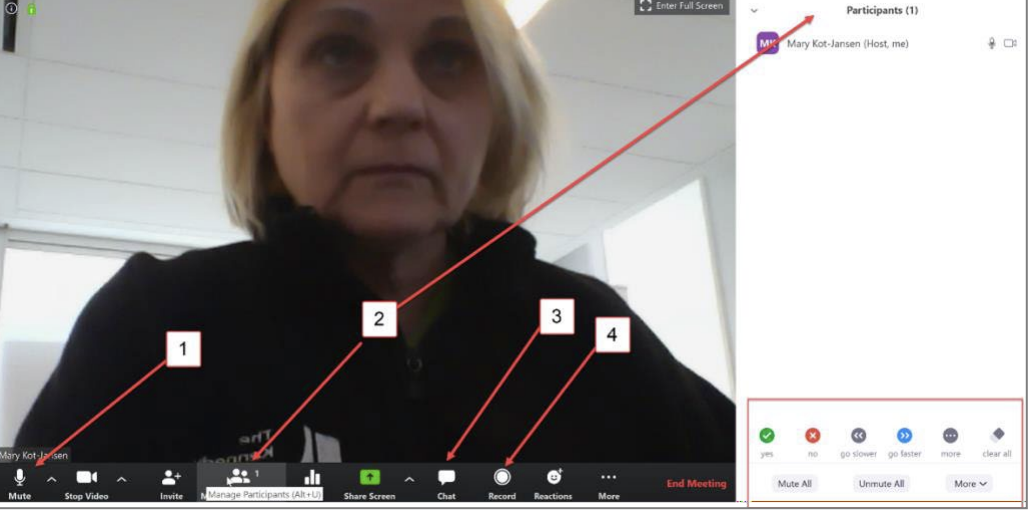 Check the Audio settings (next to the Mute button),to make sure that your microphone is enabled if desired. When using Zoom to bring remote, online students into a physical classroom via the instructor classroom computer, change the "Suppress background noise" setting to "low". This helps to eliminate static in the audio often heard by online participant. Instructors will only have to make this adjustment the first time they use a classroom computer. The setting will remain in "low" the next time they come back to that classroom, even after a full computer shutdown or after other users have used the computer.
Select Participants from the menu bar to display the members of the meeting.
Chat messages can be sent to all members or privately to individual members via the Chat feature.
If you would like to record this meeting, click the Record button before you begin.
Click End to stop the recording and end the meeting.
Delete a meeting
Only the meeting creator can delete a meeting that has been created using Zoom in ELMS-Canvas.
On the Upcoming Meeting list, click Delete next to the meeting to be deleted.
Click OK in the pop-up dialog to confirm that the meeting is to be deleted.
Screen sharing
Advanced meeting controls
Push to talk.


The 'Push to Talk' feature allows you to remain muted throughout your Zoom meeting and hold down the spacebar when you want to be unmuted and talk.
Advanced options
Troubleshooting
In addition to Service Desk support, there are troubleshooting documents to support common problems such as:
I get an error message accessing Zoom via ELMS-Canvas
If you receive an Error Code 1001 or 1101 when accessing Zoom via ELMS-Canvas, this means you have not created your Zoom account at umd.zoom.us. Steps for doing this are at the top of this page in the Authenticate your Zoom account section.
If you authenticate, but then still receive an Error Code 2207, inaccurate information is stuck in your cache. Follow these steps to fix the problem:
Log out of ELMS-Canvas.
Clear the cache in your browser.
Log into ELMS-Canvas, visit your course, and select Zoom.